2011 Hyundai Santa Fe Driving Impressions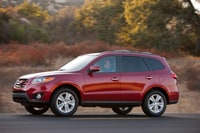 Nobody can expect an SUV, even one built using a stiff unibody, to handle as well as a sedan. However, the Hyundai Santa Fe comes mighty close. Indeed, as long as you don't fling it around corners as if you're in a sports sedan, you'll have no complaints about the Santa Fe's handling.
Overall, the driving experience is transparent, meaning there is nothing outstanding, negatively or positively. The steering has a pleasant feel, neither too tight nor too loose, the brakes work well if not dramatically, the ride is smooth and the vehicle is quiet.
The 2.4-liter four-cylinder engine is quite a pleasant surprise. It has Continuously Variable Valve Timing on both the intake and exhaust valves, and a Variable Intake System that enhances engine breathing, and, as a result of these advanced technologies, delivers both better performance and superior fuel economy than the 2.7-liter V6 it replaced. For most drivers most of the time, the four-cylinder will be more than adequate and deliver great fuel economy in the bargain.
The 3.5-liter V6 is also a very nice engine. It also has the Continuously Variable Valve Timing on both intake and exhaust, and a three-step Variable Intake System that enhances engine breathing and efficiency at both low and high engine speeds. The benefit is felt in both off-the-line acceleration and in passing performance. In addition, it also delivers better fuel economy than the previous 3.3-liter V6. Both these engines are big improvements and really enhance the viability of the Santa Fe in its competitive market segment.
The 6-speed automatic transmission features SHIFTRONIC, which allows manual control of the gear selection, and it has both overdrive ratios and a lock-up torque converter for improved highway fuel economy.
We drove a Santa Fe with all-wheel drive. It's electronically controlled and automatically sends power to the wheels with the best traction. For really slippery or off-road conditions, there is a driver-selectable all-wheel-drive lock that provides a fixed 50/50 torque split between the front and rear wheels. On dry pavement (not locked) it did not feel any different from the front-drive model. All-wheel drive is designed to improve handling stability and traction on slippery surfaces, and the Hyundai system does that. In addition, all Santa Fe models include Electronic Stability Control (ESC) which includes the function of traction control.