2011 Hyundai Santa Fe Introduction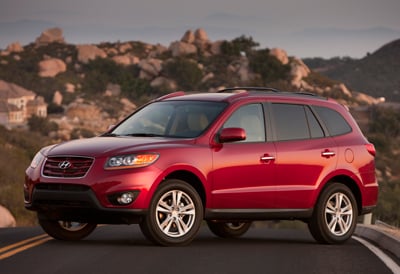 The Hyundai Santa Fe, a midsize crossover SUV, is a practical size, roomy interior, worthwhile features, a combination of responsive performance and commendable fuel economy, an attractive price, and a terrific warranty. It's a good choice for dealing with urban and suburban traffic, taking the family on a vacation, or hauling random stuff from one spot to another.
The Santa Fe is a crossover utility vehicle, or CUV, meaning it is built with unibody construction, instead of having the body-on-frame structure of a traditional truck or larger SUV. Compared to a truck-based SUV, a crossover is generally lighter, smoother riding, more responsive, and delivers better fuel economy. But you knew that. Many of the SUVs this size are crossovers now. The Santa Fe is built in the U.S., in Montgomery, Alabama.
The Santa Fe is an attractive vehicle with a sleek shape. Inside, it's roomy. It seats five. It has four doors, a rear liftgate, and offers a lot of versatility for carrying people or cargo.
The Santa Fe offers a choice of 2.4-liter four-cylinder and 3.5-liter V6 engines, both of which were brand new for 2010. It is available with front-wheel drive, or all-wheel drive for those who might need more traction.
The 2.4-liter engine delivers 20/28 mpg City/Highway when equipped with the 6-speed automatic, according to the federal government. A 6-speed manual is standard. Rated at 175 horsepower at 6000 rpm and 169 pound-feet of torque at 3750 rpm, this second-generation Hyundai engine is high-tech: all aluminum, 16 valves, Continuously Variable Valve Timing on both camshafts and a Variable Intake System.
The 3.5-liter V6 boasts 276 horsepower at 6300 rpm and 248 pound-feet of torque at 5000 rpm, big numbers, yet it gets an EPA-estimated 20/26 mpg, good numbers, also. Those last figures edge out the 2.4-liter with the 6-speed manual (19/26 mpg). The V6 comes standard with the 6-speed automatic, and it is a very good transmission, adding to the efficiency of the powertrain. Like the new four-cylinder, the new V6 features overhead cams, four valves per cylinder, CVVT and VIS, up to date and sophisticated, in other words.
2011 Santa Fe Limited models offer a new 605-watt Infiniti Logic 7 audio system. For 2010, Santa Fe was upgraded with fresh styling, new engines, and the latest navigation technology. It was last redesigned for the 2007 model year.