2011 Hyundai Santa Fe Summary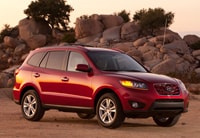 The Hyundai Santa Fe is only a little smaller than a Toyota Highlander, but it costs a lot less. Judging from Hyundai's performance in J.D. Power and Associates quality studies, Hyundai's vehicles are right there in terms of quality and reliability as well. If you're in the market for a suburban utility vehicle, with a tidy size, good versatility, nice styling, responsive performance, commendable fuel economy, a generous list of appealing features, and an attractive price, the Santa Fe should be included on your shopping list.
NewCarTestDrive.com correspondent John Rettie drove the Hyundai Santa Fe in Santa Barbara.