2011 Hyundai Santa Fe Walk Around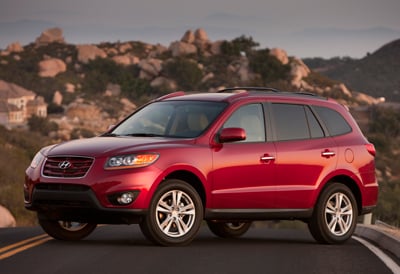 With its relatively long wheelbase and short overhangs, the Santa Fe has more the profile of a sporty station wagon than that of a traditional body-on-frame SUV. The most noticeable attribute of the Santa Fe's front end is the complete absence of a bumper. Instead the front valence curves around from beneath the body to encompass the large grille and wrap-around headlights. The hood slopes up toward the raked windshield, and the wedge shape continues along the lower edges of the side windows that sweep up dramatically toward the tailgate.
Even the rear has distinctively curved lines, with high taillight clusters that are partially mounted on the main body and the tailgate. The easy-to-see and easy-to-grab tailgate handle is handy and convenient.
Both the 17- and 18-inch wheels are a five-split-spoke design, and with the other exterior enhancements give the Santa Fe a look that says it might cost more than its actual price. The roof rack is well integrated into the whole.
Interior
Pleasing is the best way to describe the interior of the Hyundai Santa Fe because it's trimmed in modern plastics with a soft-touch feel. All models feature blue accent lighting at night to illuminate the instruments, switches and the edges of the front cupholders. Even the base GLS has nice luxury touches.
The gauges are mounted in a large instrument pod in front of the steering wheel. The radio and climate controls are well located in a center stack that is mounted high in the dashboard for easy reach and observation while driving.
According to Hyundai's measurements, headroom and legroom in the Santa Fe is more than just competitive with other vehicles in its class, thanks to a uniquely designed unibody that is not based on an existing car platform. That allowed the engineers to maximize interior space.
Fold down the second row of seats and there is 78.2 cubic feet of storage space. Although the Santa Fe is one of smallest midsize SUVs in exterior dimensions it is far from being the smallest inside, a tribute to its space-efficient design.
The air vents for the second row of seats are mounted in the B-pillar, which is much more effective than being mounted down low behind the center console, as in many vehicles.